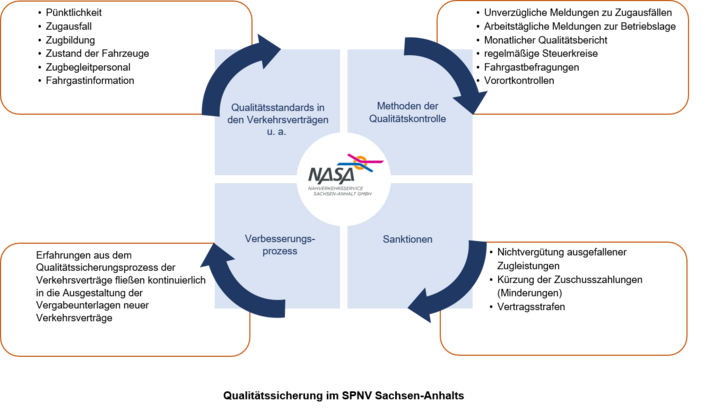 Monitoring the quality of rail services in Saxony-Anhalt is an important task for NASA GmbH. A comprehensive quality management system is used to evaluate the services provided by the individual rail transport companies.
In order to ensure the quality level of the transport services, various quality standards are defined in the transport contracts. These quality standards are important performance indicators and are monitored by NASA GmbH to ensure compliance with the contract.
Quality control is multi-layered and based on a combination of different methods. If the agreed quality targets are not met, the evaluation rules laid down in the transport contract come into force.
The majority of transport contracts in Saxony-Anhalt foresee that unfulfilled transport services - so-called train cancellations - are not paid for, regardless of the reason for the cancellation. In more recent contracts, fixed costs can be reimbursed under certain conditions.
For quality deficits, such as unpunctuality, dirty or inappropriate vehicles, reductions in subsidy payments are stipulated in the transport contracts. Depending on the characteristic, the quality deviations are recorded electronically or via defined documentation channels, monetised on a monthly basis and invoiced. The amounts from the subsidy reductions then flow back into the state budget and are usually used in the budget planning for investments in public transport (e.g. for the modernisation of station buildings or their forecourts).
An overall report on the public service obligations for which NASA GmbH is responsible, the selected operators of the public service contracts and the compensation and exclusive rights granted to these operators as compensation is published in the respective annual report pursuant to Art. 7 par. 1 of Regulation 1370/2007.