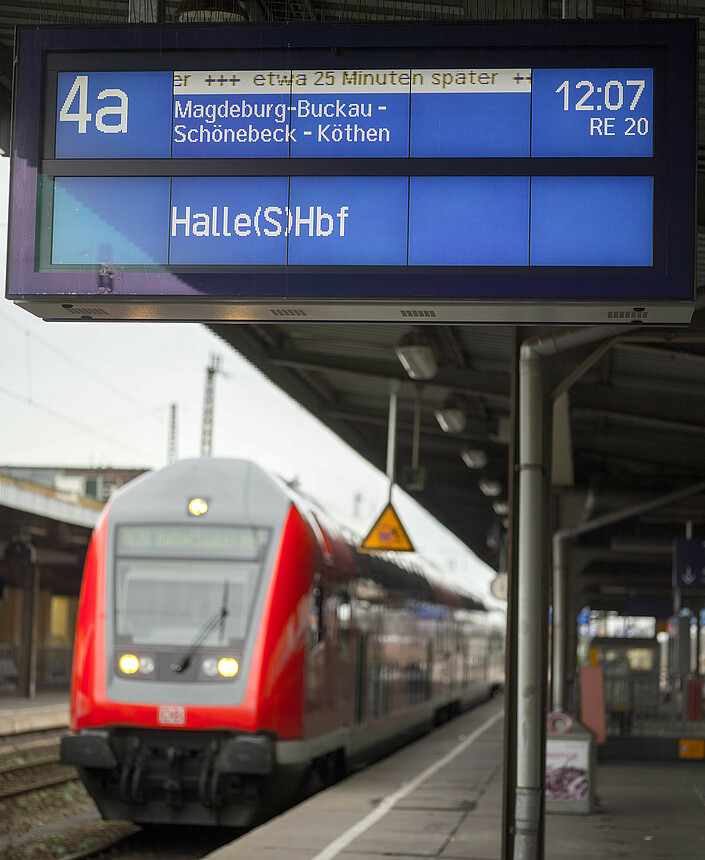 In 2021, NASA GmbH ordered 26.641 million train-kilometres of regional public transport services for the state of Saxony-Anhalt, about 0.3 per cent more than in 2020 (26.546 million train-kilometres). As a rule, services are awarded on a competitive basis. For this, the state concludes transport contracts with the transport companies. The transport contracts contain precise regulations regarding how the transport services are to be rendered (qualitatively and quantitatively) by the transport companies. Since the revenue from tickets does not cover the extensive costs of operation and infrastructure, the state of Saxony-Anhalt pays the transport companies a financial compensation (subsidy), which is also regulated in the transport contract.
NASA GmbH will manage 13 transport contracts in the 2021 timetable year.
The quality requirements of the respective networks are defined in the transport contracts. They are checked and assessed by NASA GmbH - including from a financial perspective - in order to provide incentives for high-quality service.
One of the most important quality criteria is the punctuality of the trains. Arrival and departure times are recorded electronically. Trains with a delay of up to five minutes are not recorded as being late.
All transport contracts concluded by the state of Saxony-Anhalt stipulate that any transport services that are not rendered - so-called train cancellations - shall not be remunerated, regardless of the cause of the cancellation. For quality defects in terms of e.g. punctuality, cleanliness and vehicle deployment, the transport contracts stipulate reductions in subsidy payments. Depending on their nature, deviations in quality are recorded, either electronically or using specified documenting channels; they are then financially assessed and invoiced on a monthly basis. The money that remains from subsidy reductions flows back into the state budget and is generally earmarked in the budget planning for investments in regional rail passenger transport / regional public transport (e.g. for retrofitting station buildings, interface measures).
In accordance with Article 7(1) of Regulation (EC) No. 1370/2007 of the European Parliament and Council of 23rd October 2007 on public passenger transport services by rail and by road and the repeal of Council Regulations (EEC) No. 1191/69 and (EEC) No. 1107/70, a general report on the public service obligations falling within the remit of NASA GmbH, the selected public service operators and the financial compensation and exclusive rights granted to these operators as compensation, is published in the relevant annual report (see About NASA).