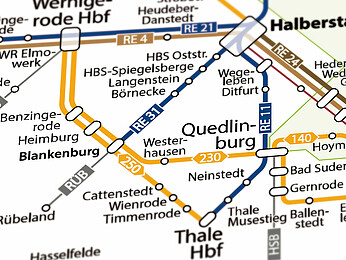 We plan and design the state's rail and bus network
The state rail and bus network includes all RE, RB and S-Bahn lines as well as selected bus lines in Saxony-Anhalt. Our service planners look after routes and timetables, define connections and develop replacement concepts for construction works. They support tourist railways and accompany mobility projects in rural areas.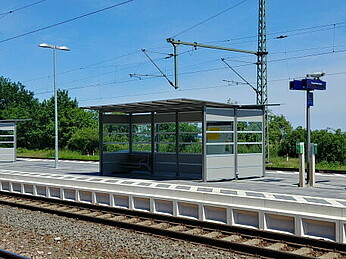 We drive infrastructure development
Through the Public Transport Investment Programme, we support the modernisation and expansion of stations, lines and station environments. We support the revitalisation of station buildings and the creation of barrier-free bus stops. And not just as a granting authority. NASA actively promotes many projects and supports funding projects from A to Z.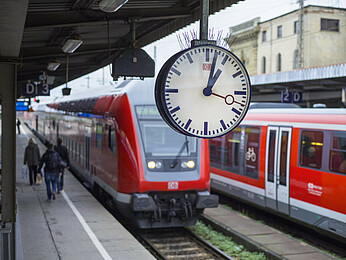 We ensure competition and set quality standards
As a contracting authority, we are responsible for a large number of transport contracts with railway companies in the state of Saxony-Anhalt. Each transport contract is preceded by a Europe-wide tender. In the contracts, we lay down detailed specifications for vehicles, comfort, operational quality and much more, which we monitor continuously. If anything is not up to scratch, we demand our money back.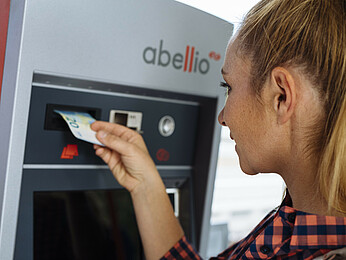 We are responsible for fare revenues
We finance regional rail transport on behalf of the state. In most transport contracts, we are entitled to the fare revenue. That is why we have experts in tariffs, distribution and revenue sharing. They represent the state's interests in the transport associations and tariff communities and ensure that tariffs and distribution are developed further.
We run information and booking systems
NASA GmbH operates the INSA journey planner for Sachsen-Anhalt and the Mitteldeutscher Verkehrsverbund MDV. All timetable, fare and real-time data converge at our data centre. Other platforms throughout Germany are also supplied from here. In addition, INSA now offers mobile phone ticketing and call-a-bus booking via the INSA app.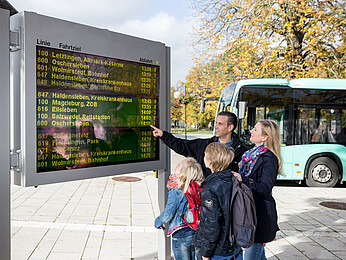 We buy and lease information technology
As a hardware supplier, we improve digital passenger information in Saxony-Anhalt. Our on-board computers are used by bus operators. They record the current position of the vehicles and send it to the INSA operations control system. Our dynamic passenger information displays provide passengers with information at bus stations and stops.
We are a centre of excellence for intelligent transport systems
The state of Saxony-Anhalt is funding and promoting the expansion, design and development of Intelligent Transport Systems (ITS). To this end, there is an ITS framework plan, the implementation of which is the responsibility of our competence centre. Specifically, we are involved in the promotion of electromobility, the exchange of mobility data, and research and development in the transport sector.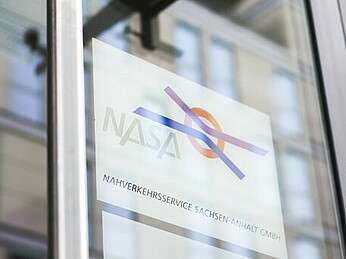 We are the point of contact for politicians and the public
NASA is the first point of contact for the state administration and politicians when it comes to local transport in Saxony-Anhalt. We also maintain a close professional exchange with all other transport stakeholders in the state. For our passengers, we offer easy ways to contact us through the Passenger Forum, the annual timetable preview and our social media channels.